Contemporary Light Art
Olgiate Comasco, Como - Italy
SAS- SUMMER ART SHOW
Took place in Olgiate Comasco in three nights June 30, 7 and 14 July 2012, the third edition of the SAS – Summer Art Show.
In the LIGHT section of the SAS were organized two interventions of Light Art maintained by the Co-founder of APIL (Association of Italian independent Lighting Designers) Mario Frau, architect owner of Studio FRAU18•08 PARTNERS and Romano Baratta, light artist and lighting designer, coordinator of the blog "Lighting Now!".
Medieval sensation colours: Contemporary Light Art at Medieval Center of Olgiate Comasco.
Be enveloped by the poetry of light. Immerse yourself in the colors.
Your deep... in the sea of time. The atmosphere of an ancient medieval dream where staircases and get lost in the tunnel of light.
The light... its magic.
A very difficult task to enhance the light through a pole of attraction so important to the town. When installing the backgrounds of colored light envelop the whole lighting the different spaces made ​​of solid and void and emphasizing the wonder of the place.
The color combination, expertly designed to be consonant with medieval decorations makes the setting magical, as if the authors would like to give us some magic.
An intervention to join ideally antiquity and modernity allowing viewers to experience new emotions and see with "new eyes" an essential place for this city...

Synergy of the senses: Contemporary Light Art at Villa Camilla of Olgiate Comasco.
"...Who lose see, lose the view and the beauty of the universe and remains in the likeness of a life that is closed in a tomb, in which he is motion and life. Or do you not see that the eye embraces the beauty of the whole world?..."
, observation that Leonardo da Vinci made ​​around the end of the fifteenth century.
Being able to see was one of his mottoes, for him the eye was really the window to the soul...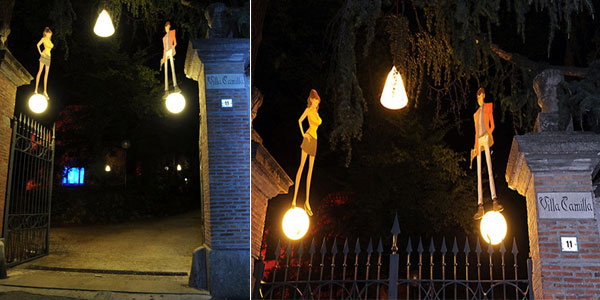 In a space seemingly unchanging goal is to arouse amazement and call everyone's curiosity. Here then are balls of light at the entrance and along the way, both on land and suspended in the trees, inviting you to come to a "new" Palace wrapped in a red light, with an experiment that want to activate the senses of the observer, respect to his memory.
A temporary system and then an artistic gesture that will be a new visual presence in the City or at least in the minds of those who will see the Palace wrapped in the magic atmosphere that the artists wanted to create.
An experience of the senses is an encouragement to a "new light"...