LIGHTING OF MONUMENT TO LEONARDO DA VINCI
Milan - Italy
LIGHTING OF A MONUMENT IN THE PIAZZA DELLA SCALA IN MILAN
The lighting, in its nature, functions to light. Then, what and how it is lighted is only controlled by the taste and the technical knowledge of the designer of the lighting system...
The monuments in the places in Milan have to be lighted not to create a stable lighting system but to show a new visual presence of those monuments for a limited period, showing the power of light to give a new and distorted subjective vision of the monuments that are seemingly unchangeable. Too often, to light a work means to make its clear, without a personal reading out and cheering up with a new "light" at the watcher eyes. For a young Lighting designer was a real dare to be able "to venture" thanks to this project most of all because Leonardo da Vinci was a great tester of new techniques that conducted him to great successes but also to failures and misunderstandings. In front of me there was the Monument that is the symbol of Milan in Piazza della Scala in the heart of history, culture, finance and politic of a "ironic" city with many contradictions but attentive to the culture.
The ground idea to light the monument of Leonardo da Vinci was to give life to the work in a strong and provocative way to remind one of the characteristic aspect of Leonardo da Vinci: his spirit of experimenter genius. We used a red light to floodlight the disciples at Leonardo's feet. This light tries to create an artistic act that is able to create a provocative atmosphere.
This atmosphere wanted to be an attraction to an experimental thing. Moreover, the light doesn't simply floodlight the monument, but exhales the living presence of the statue in the square creating an active gesture of the monument that is no more a passive thing, but it interacts with the environment. From this consideration was born my very real experience...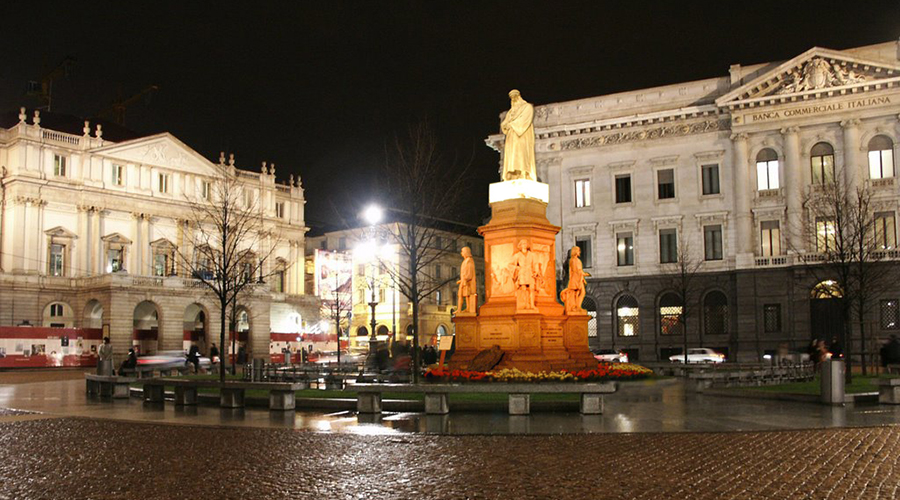 Technical characteristic _ System of Monument of Leonardo da Vinci:
- n. 4 symmetric floodlights with a close bundle and with a 150W metal iodides lamp with a 3000k colour temperature;
- n.4 symmetric floodlights with a close bundle, a red dichroic filter and with a 150W metal iodides lamp with a 3000k colour temperature;
- n.4 hermetic floodlights IP657 with 36W fluorescent lamp with 3000k colour temperature. - 33 poles of 4 metres with globular instruments for garden and lamps of 125W with mercury vapours;
- 11 lighthouses of 25 metres, each one with five different lamps of 250W with vapours of sodium and 400W with metal iodines.